THE LATEST IN CHOIR MANAGEMENT SOFTWARE
Choir Concierge is an app designed to simplify everyday choir management. It helps with organizing songs, events, memberships, and riser placements, as well as providing rehearsal tools and automated member onboarding. With great smartphone functionality, Choir Concierge streamlines your choir's day-to-day operations, saving you time and effort.
how we can help your choir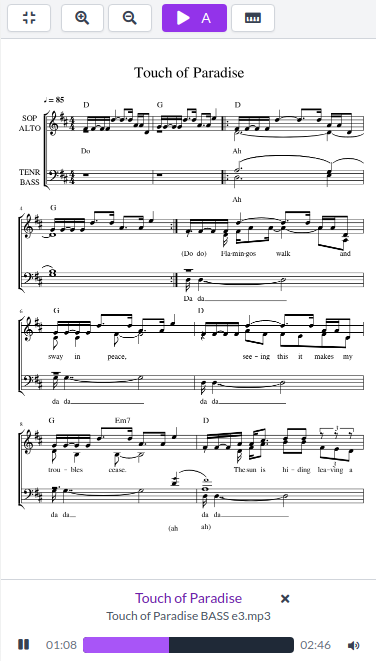 Practice time is easy when you can open your music FAST!
Learning new songs means bouncing back and forth between your sheet music, your piano and your learning tracks.
Your music is our top priority! Our rehearsal toolkit puts your sheet music and learning tracks into one compact view that works great on your phone. We even added a pitch pipe that always starts at the same key as your song. And if you're a multi-tasker, you'll love the fact that our audio player stays open and keeps playing your music while you browse the rest of the app.
Quick and easy on all your devices
Clean and simple, designed with user-friendliness in mind.
It's much easier to use our technology to its full potential because its easier to understand. Even the members of your group without much tech skill will be able to join in and get involved, which will also yield better results in terms of reporting because people will actually be using it. Easy to transition into using the technology, even if you haven't used choir management software before, because it is intuitive. Save time not having to search through the software to find the features you need.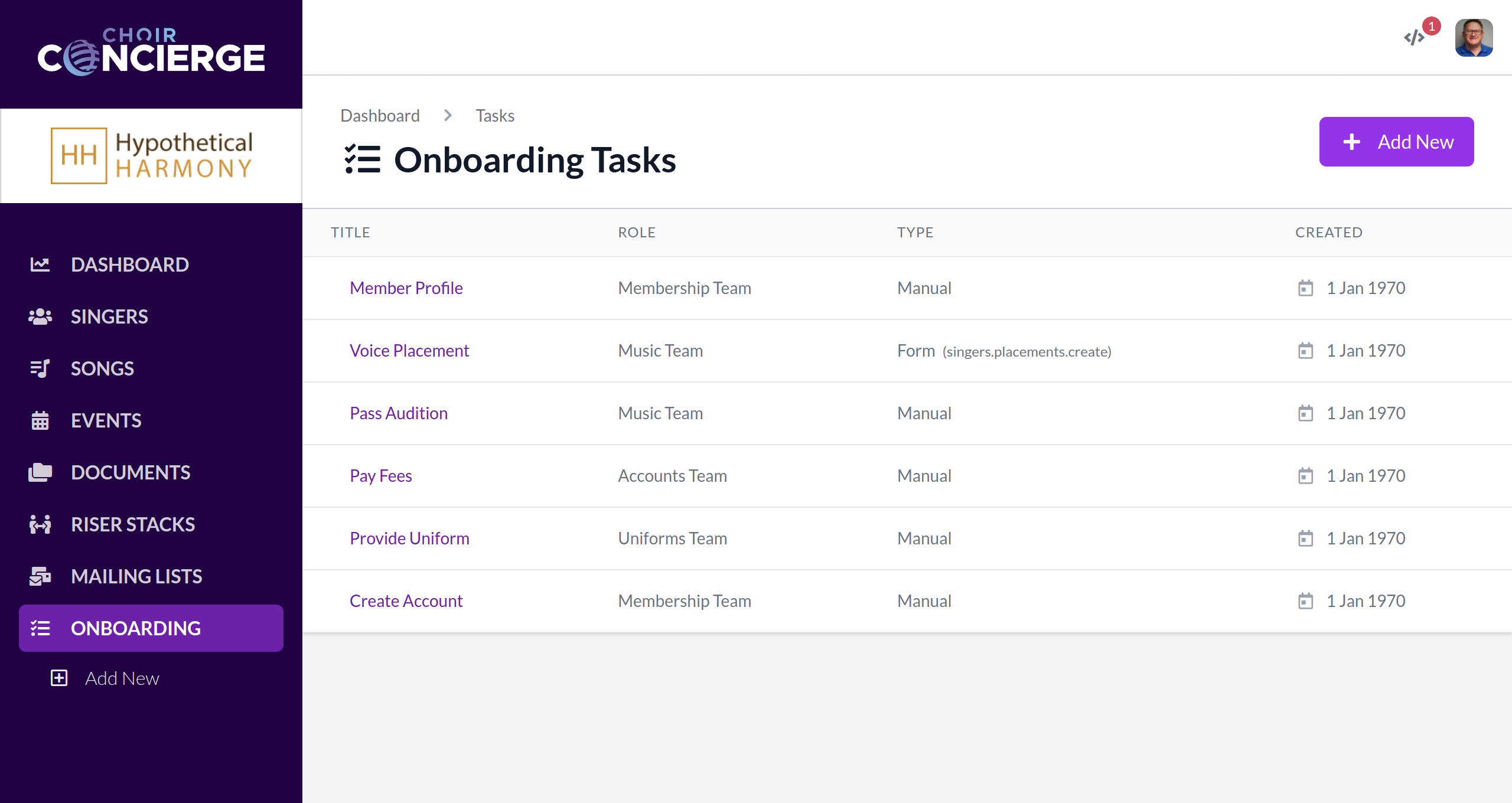 Automate your singer recruitment
Manage the growth of your choir with our UNIQUE Onboarding and Development tools.
Registration forms, auditions, uniforms, fees all add complexity to your new singer onboarding process.
You'll be able to automate the process to make onboarding simpler and to ensure every new singer has the best possible first impression of your choir. Then, regularly assess your singers' abilities individually and as a group, and track their progress.
Simple event and attendance management
Better attendance tracking for events, better RSVPs and better reports.
Your singers will RSVP sooner, so you can plan better and stress less. Your team can save time by tracking attendance quicker and easier. You can find scheduling problems sooner by looking at the trends in your attendance, and you can identify the singers who contribute the most to your events.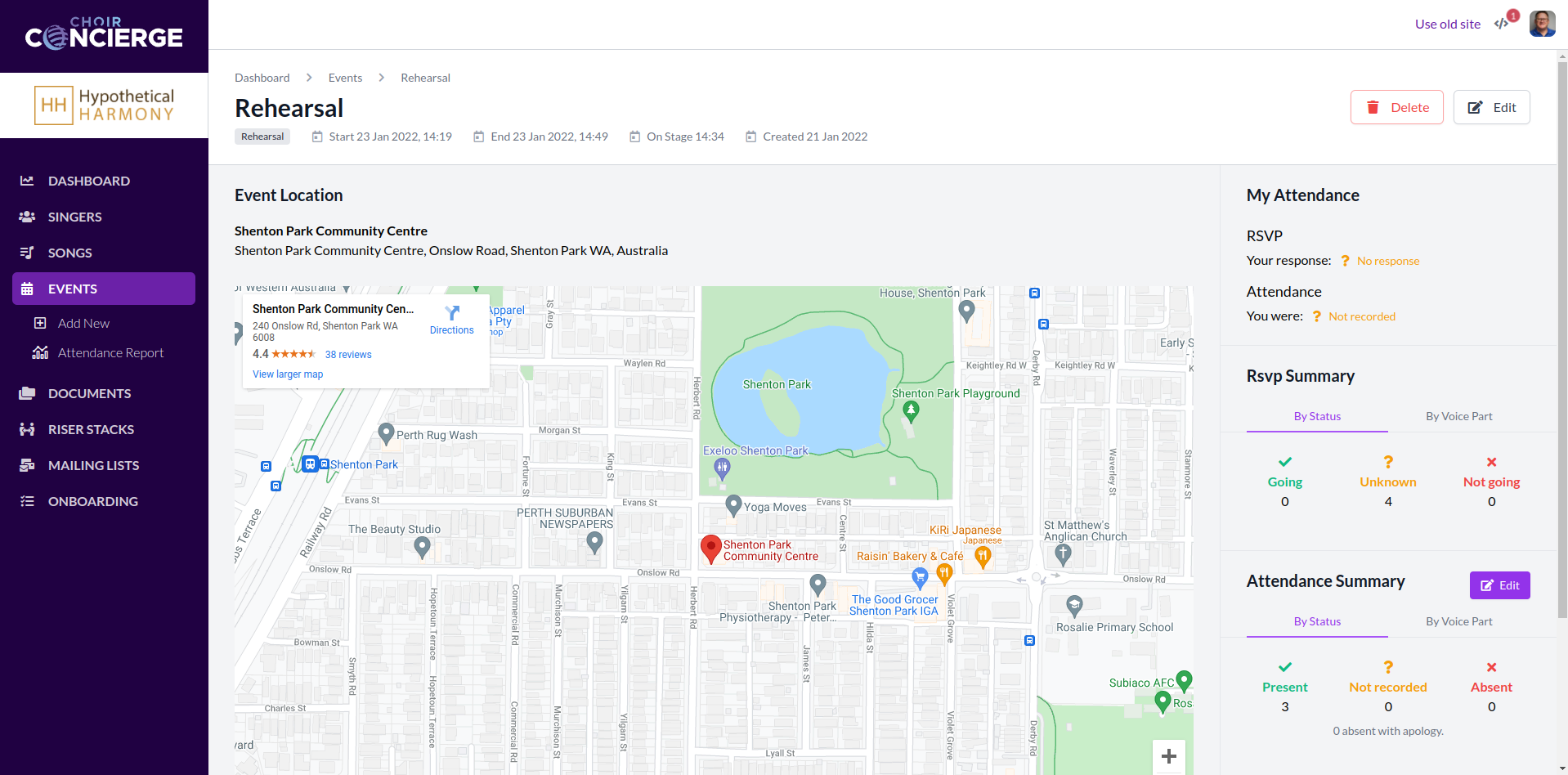 Ready to Simplify
Your Choir Management?
Are you ready to experience the ease and efficiency of managing your choir with just a few taps on your phone? Simplify your choir management with Choir Concierge. Request a demo today and discover how easy it can be!
Member Management
Basic membership info (date of birth, member ID etc)
Track membership fees and renewals
Voice placements – detailed tracking of a singer's abilities.
User management – customise user role permissions and make new roles.
Voice parts – your can even customise colours to match your section's t-shirts!
Song Management
Storage for audio and sheet music
Tracking for singer learning status.
Pending status (music team only)
Assign audition songs
Super-handy Pitch Pipe button (a crowd favourite!)
Learning tools – Integrated PDF viewer, audio player and pitch pipe.
Event Management
Calendar and list view
Download as ICS
Sync your calendar app
Track RSVPs and Attendance
Attendance reporting
Google maps for venue locations
Add set lists / schedules
Smart Dashboard
Everything you need here and now
Your Upcoming Events – includes a super-handy map to navigate to today's events.
Birthdays & Memberversaries
Songs to Learn
Mailing Lists
Mailing Lists – Dynamic lists for internal discussions (email chatrooms).
Assign an email address to a group of users.
Email Broadcasts – Send a broadcast with your logo to a group from within the app
Member Onboarding
Create a checklist for recruitment (e.g "Pass Audition", "Pay Fees"
Automatically notify team members
Automatically send emails and resources to auditionees
Automate/remind to follow-up
Riser Stacks
Assign physical riser positions to your singers.
Impersonate Function
As an admin, quickly jump into a member's shoes to help resolve their technical issues.
Easily Switch Choir
You have one login for all of your choirs – and can jump between them quickly!
GET 20% OFF YOUR FIRST YEAR
Free!

5 users

Unmetered storage
Small Choir
Up to 25 users
25 users

Unmetered storage

20% off first year!
Medium Choir
Up to 50 users
50 users

Unmetered storage

20% off first year!
Unlimited users

Unmetered storage

20% off first year!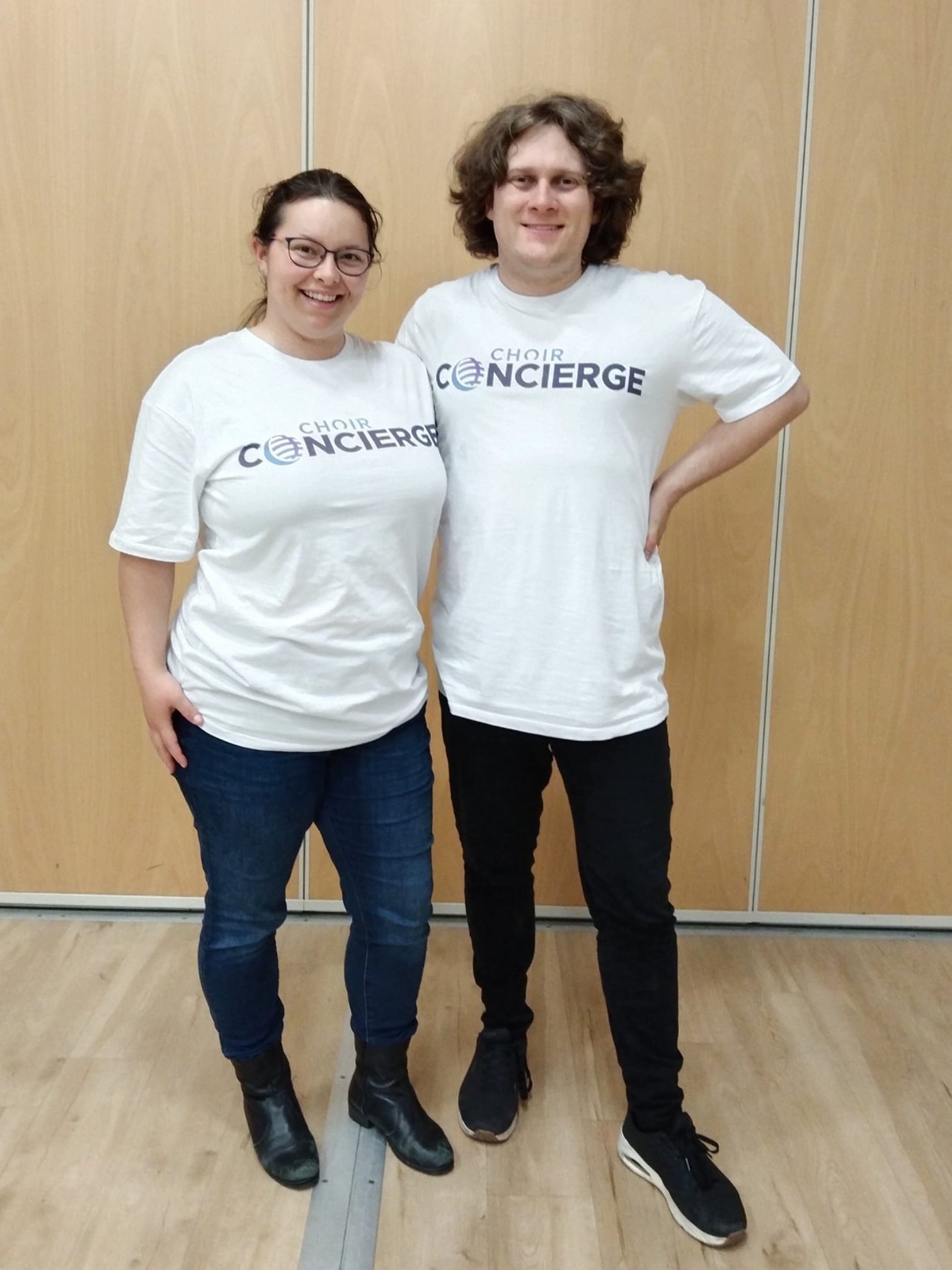 Choir Concierge is a passion project started by Australian software developer and music lover Hayley Bech. As a choir director and music team member for multiple choirs, Hayley has had the opportunity to work with the majority of popular choir management apps on the market, learning what is important for choir management and what could be improved upon.
Choir Concierge was born out of a desire to create a choir management tool that was powerful, but also incredibly simple. The product was designed with user experience as the top priority.
After 5+ years of development, we are proud to be able to share with you our software. We truly believe it is a cutting-edge solution that won't just help you manage your choir, but will also be easy to use while doing it.
Our dream is for choirs to have fantastic tools that are simple to use and accessible to all. You can help us make the dream a reality!
Discover perfect harmony for your choir with our powerful software! Request a demo today and unlock a world of possibilities for managing your choir's music, events, members, and more. See firsthand how our comprehensive features can streamline your choir's operations, enhance collaboration, and elevate your performances. Take the first step towards an efficient and harmonious choir experience by requesting a demo now – we can't wait to showcase what our software can do for you!
If you have any general enquiries, questions or support requests, please visit our General Enquiries page to get in touch with us.